The Prosperity Update – September 2019
Some nice developments this month! Check out our new website for updated information. http://bradbrainfinancial.com/investments-acpi/
Current Holdings, as of August 30, 2019
| | |
| --- | --- |
| Cash and Fixed Income | 14.7% |
| Cash | 7.3% |
| Daily Interest Savings | 5.5% |
| Vanguard Canadian Aggregate Bond ETF | 8.0% |
| | |
| Balanced | 15.4% |
| Value Partners Income Pool | 15.4% |
| | |
| Equities | 65.1% |
| Antares Total Equity | 15.3% |
| Value Partners Canadian Equity | 15.5% |
| Vanguard FTSE Developed All Cap ex North America ETF | 15.1% |
| Vanguard US Total Market Return ETF | 15.9% |
| Berkshire Hathaway B shares | 2.1% |
What Makes the Prosperity Fund Special
The Prosperity Fund is a collection of our best ideas at our best prices, with client friendly convenience.
We have access to high net worth pricing which delivers cost savings for all unit holders of the Prosperity Fund. This happens behind the scenes, and it is implemented in two different ways. The fund receives a monthly fee rebate, and we have negotiated a unique investment management contract to reflect the preferred pricing. You won't see these cost savings on your account statement, but they are there.
Investment Spotlight – The Value Partners Income Pool
The Value Partners Income Pool is a position that we have been migrating to, both inside and outside of the Prosperity Fund. The biggest reason for this is Brad's comfort level with the product. Unlike some products, the VPI Income Pool only pays out what it actually earns.
Recently we participated in a webinar with VPI Income Pool portfolio manager Vito Maida. Vito spoke of the objectives of the VPI Income Pool; preservation of capital, to produce sustainable and growing income, and capital appreciation. He is very optimistic that any money invested today will do well if we have 5-7 years to let it multiply.
Vito emphasized that the income generated is real. It is not a return of capital, (which is simply just a return of your own money), and its not dependent on future capital gains.
Currently the Income Pool is invested 52% into fixed income and 48% into equities. This is the highest equity allocation that the Income Pool has ever had, and its reflective of the opportunities that have arose in 2018/19. The dividend yield on the equity portion is 5.1%, and the interest yield on the fixed income portion is 3.4%, for a combined yield of 4.2%. It's a sustainable and growing income stream.
Vito emphasizes that short term market fluctuations are of little concern. It is the fundamentals of the business itself that drives the price of a stock over the long term. The businesses in the VPI Income pool are really solid; they are increasing dividends, buying back shares, reducing debt, acquiring competitors, and improving operations.
Recent Happenings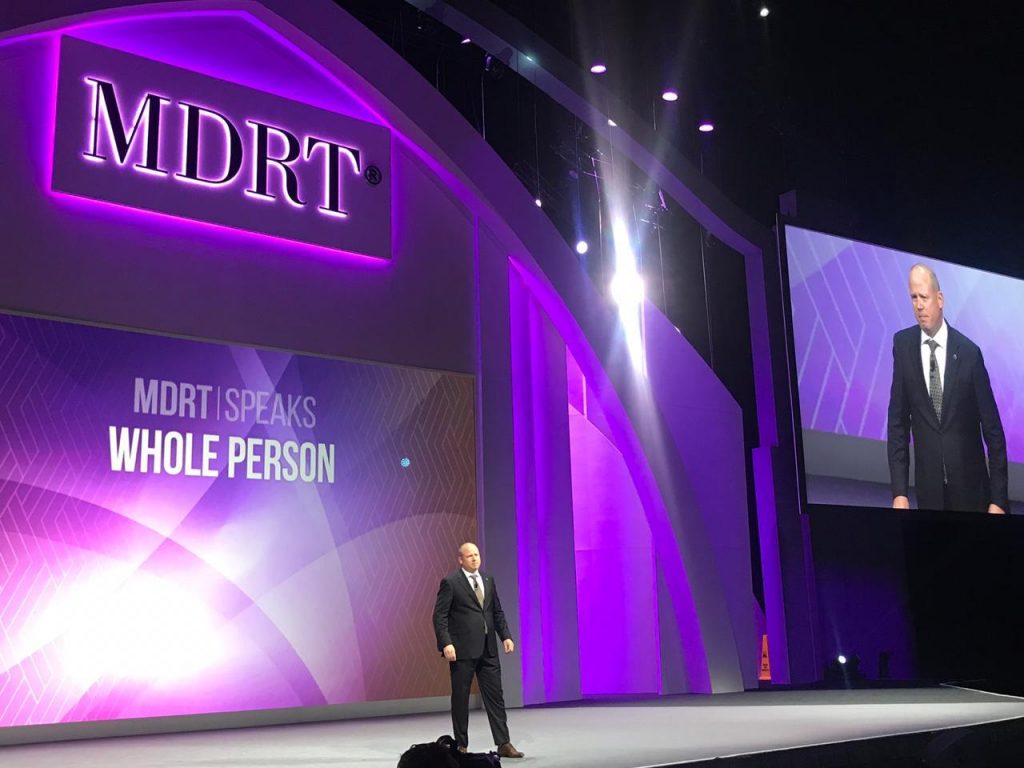 I recently had the thrilling experience of sharing my ideas with a global audience of 8000 financial advisors in Sydney, Australia. I was simultaneously translated into Cantonese, Indonesian, Hindi, Japanese, Korean, Mandarin, Thai, and Vietnamese.
The funny thing is, it was never a career ambition of mine to be a public speaker. I fell into it by chance a few years ago when a friend of mine asked me to speak to a group of 1200 advisors in
Toronto. Since 2015 I have presented to over 26,000 financial advisors from coast to coast, and abroad.
What I found is the experience is really useful. It isn't so much the time on stage, which passes quickly, but rather all of the preparation that goes into crafting a high level presentation for an audience of peers. It clarifies my thinking, and helps me find simple ways to express difficult concepts. This is directly transferable for my client communications. I am always on the lookout for a good analogy to try to help explain a financial planning concept.
Operations Reminder
A reminder of the Prosperity Fund trade time frames. The Prosperity Fund is priced weekly. This is on purpose, as it reduces the fund costs as compared to daily fund pricing. But it also means that, depending on the circumstance, it can take an extra few days to process a trade. If you anticipate any cash needs that will be funded by your investment in the Prosperity Fund, please let us know in advance so we can prepare accordingly.
Recommendations are Welcome!
If you know of anyone whom we should talk to about the Prosperity Fund, or any other financial matter, please feel free to pass along my name, or direct them to the website, www.bradbrainfinancial.com.
Following a value style of investing, the Prosperity Fund will be a collection of our best ideas, with a Target Asset Allocation of 85% Equities and 15% Cash and Fixed Income.
The Prosperity Fund is appropriate for patient investors looking to grow their money over the long term. It is not appropriate for people looking to speculate, for time frames less than five years, or for people who are not comfortable with market variability. The Prosperity Fund requires a minimum purchase of $50,000.
Aligned Capital Partners Inc. is regulated by the Investment Industry Regulatory Organization of Canada (www.iiroc.ca) and a Member of the Canadian Investor Protection Fund (www.cipf.ca).
Please contact Brad Brain or visit http://bradbrainfinancial.com/investments-acpi/ for additional information about the Prosperity Fund. Important information about the Fund is contained in the offering memorandum which should be read carefully before investing.